In this update:
Constituent Updates
REAL ID
Out and About
Recognitions
In The News
Upcoming Event – Concealed Carry Seminar
---
Constituent Updates
In 2017 Senator Ward called for a comprehensive performance audit of Pennsylvania's voter registration (SURE) through the introduction of legislation, SB 762. Despite concerns over the years with the accuracy of voter registration, no audit had ever been done of the system.
In response to Ward's efforts, the state Auditor General began an audit of the voter registration system in 2018. The audit found concerning deficiencies in the process by which voter registrations are entered and maintained. For instance, over 65,000 records were identified as ones that should have been cancelled due to inactivity or death of the voter.
Ward states, "Each one of these inaccurate records leaves Pennsylvania's elections vulnerable to fraud. I will be thoroughly reviewing the recommendations made in the audit to see how Pennsylvania can work to better ensure the integrity of elections in the Commonwealth".
For a copy of the full audit click here.
REAL ID
A federal mandate requires a REAL ID (or other federally-accepted identification such as a valid passport) by October 1, 2020, if you need to board domestic commercial flights, enter a military base, or enter a federal facility that requires identification at the door.
Senator Ward's office will be holding REAL ID informational sessions for constituents in the 39th district.
Out and About
St. Paul's Pre-K Expansion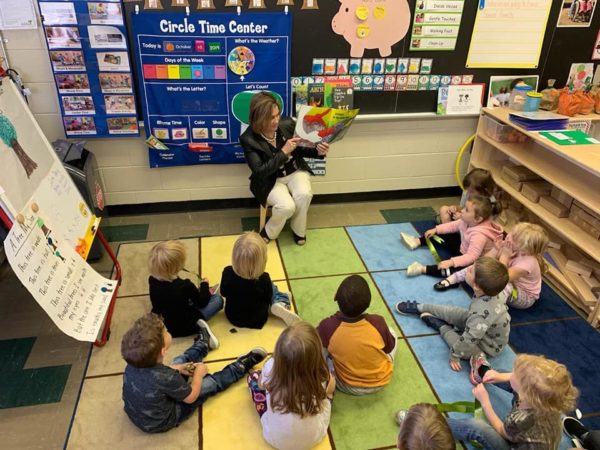 Westmoreland Community Action celebrated Pre-K expansion with the opening of a new classroom which is located at St. Paul's Parish in Greensburg.
https://triblive.com/local/westmoreland/new-hempfield-pre-k-center-puts-spotlight-on-continuing-need/?fbclid=IwAR02CBhpWd–0N8ld975OW_dKZ_G3AOo6tFI7mjxjSlDMFehhY5RjQjgeME
Norwin Elks Veteran's Day Luncheon
On November 1st, Senator Ward attended the Norwin Elks Veteran's Day Luncheon where she was honored to meet so many wonderful men and women that served our country. The veterans enjoyed a hot lunch served by some incredible volunteers. It was a special afternoon for the veterans and a special way to thank them for all of their dedication to our country.
Live! Casino Groundbreaking Ceremony
Live! Casino had their groundbreaking ceremony on November 13th at the Westmoreland Mall. The Live! Casino will produce 500 full-time jobs with benefits and several hundred part-time jobs. The average salary for casino employees will be over $40, 000/year. The previously vacant spot in the mall will soon bring $200 million in annual economic impact, therefore greatly increasing the tax base in Westmoreland County.
Recognitions
Jeannette School Closet
Jeannette Elementary has converted an empty classroom into a free closet for students in need thanks to the heartwarming idea from Lindsay Artman Schulte. Schulte asked the school board for permission to use a vacant classroom to create the closet for students. Lightly used or new shoes, clothes, and backpacks were donated from local churches, business, and residents of the community.
Full story:
https://triblive.com/local/westmoreland/jeannette-school-closet-helps-students-in-need/
Congratulations to the nurses at Excela for earning the Magnet Recognition for nursing care! Thank you for the enhanced quality of care you provide for our community.
Full article: https://triblive.com/local/westmoreland/excela-granted-magnet-status-for-nursing-care/
Blue Ribbon Award
Congratulations to Norwin Elementary!! Norwin Elementary School was given the Blue Ribbon Award for academic excellence. The National Blue Ribbon Schools Program recognizes public and private elementary, middle, and high schools based on their overall academic excellence or their progress in closing achievement gaps among student subgroups. https://triblive.com/local/westmoreland/norwin-elementary-school-given-blue-ribbon-award/
Hempfield Band in London
The Hempfield Area Senior High School Band travelled to London over the holidays to perform in its 2020 New Year's Day Parade. Over 150,000 hoagies were sold for this once in a lifetime opportunity. Great job, students!
Latrobe Student Honored for Helping Distressed Deer
The Pennsylvania Game Commission honored ninth-grader Parker Williams for helping to free a trapped white tail deer in Unity from a cow fence. Her quick and caring response did not go unrecognized!
Full Story: https://triblive.com/local/westmoreland/game-commission-honors-latrobe-student-for-bringing-help-to-entangled-deer/
Upcoming Event – Concealed Carry Seminar
Senator Ward will be hosting a concealed carry seminar next month for citizens of the 39th district. Pennsylvania laws regarding firearms and concealed carry will be discussed.
When:
Saturday, February 1st from 9 am to noon.
Location:
Hempfield Municipal Building
1146 Woodward Drive
Greensburg, PA 15601
Space is limited. Please RSVP via my website, by calling 724-600-7002, or emailing cwilson@pasen.gov.