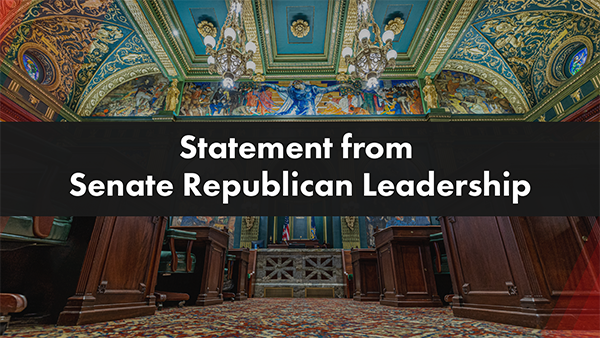 Senate Republicans Underscore 'A Deal Is A Deal'
HARRISBURG – Today, Senate President Pro Tempore Kim Ward (R-39), Senate Majority Leader Joe Pittman (R-41) and Senate Appropriations Committee Chair Scott Martin (R-13) issued the following statement regarding the 2023-2024 state budget:
"The Senate Republican Caucus worked diligently to pass a bipartisan budget. We negotiated in good faith and were eager to stand with Governor Shapiro on one of his priority campaign commitments – supporting school choice opportunities. Today, Governor Shapiro has decided to betray the good faith agreement we reached, leaving tens of thousands of children across Pennsylvania in failing schools.
"It is a shame the governor does not have enough respect and standing within his own party to follow through with his promise. Strong leadership requires the ability to bring people together, but instead we are met with Governor Shapiro's failure to deliver his commitment to empower parents and give children access to educational opportunities.
"We affirm that every child in Pennsylvania deserves the opportunity for a quality education, which is why our budget expanded educational programs and fully funded the governor's requested amount for basic education for school districts at historic levels. As Governor Shapiro's legal counsel noted, the General Appropriation bill is not the final step in the budget process. The Senate will continue to await legislative action by the House on the remaining budgetary components, to see what House Democrats, with the slimmest majority, are able to advance."
MEDIA CONTACTS:
Erica Clayton Wright (Sen. Ward) ewright@pasen.gov
Kate Eckhart Flessner (Sen. Pittman) kflessner@pasen.gov
Jason Thompson (Sen. Martin) jthompson@pasen.gov